OK, I'm comfortably convinced that I'm going in a sufficiently different direction than the Legacy-class.
On that note, I've still been working on this project from time to time. No big leaps forward though. I'm working on the engineering hull, and it's going in a more Excelsior-ish direction than originally planned. I opted to get rid of the curved upper surface in favour of a flat one, and put a sort of 'band' around the upper edge, so the saucer connector attaches a bit more cleanly. Next step will be a sort of superstructure housing the rear shuttlebay and the nacelle pylon base.
One of my goals for this ship design is to try to give it a bit of a Canadian flavour. Since you can't put back-bacon or maple syrup on a starship, and since maple leafs are a bit too conspicuous, I have something else in mind. Have you ever seen the Vimy Ridge memorial? If not, here's a picture.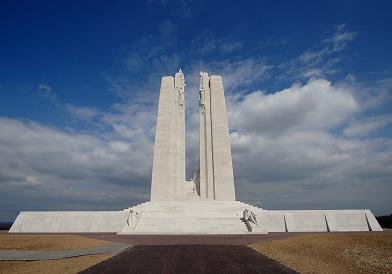 Basically, where Soverign-class ships have that funky dark triangle pattern on the top and bottom of their saucers, I'm going to use the general shape of the Vimy Memorial. I'll curve the lower base around the rear edge of the saucer, and somehow merge my plan for the saucer impulse engines into it. The gap between the two spires will have to be widened as well, to leave room for the bridge and such. But I'll use the general shape.